UPCOMING EVENTS
PAST RUDRAM 11 EVENTS
PAST PILGRIMAGES
PAST WORKSHOP EVENTS
Rudram 11 - Munich, Germany (7th of February 2015)
The second Rudram 11 event was held in Munich, Germany, on Saturday, 7.2.2015. It was the most internationally diverse Veda Union event so far with 90 participants from 11 countries such as Croatia, Czech Republic, Belgium, Estonia, Germany, Hungary, India, Russia, Slovenia, Switzerland and USA.
Beautiful altar with chair of Sri Sathya Sai Baba and divine trishula
The event started with beautiful introductory speech delivered by Mr. Anil Kumar. He has reminded us of the importance of Rudram chanting and how the chanting of sacred aksharas (imperishable syllables which always remain in the ether) will bring welfare to the world.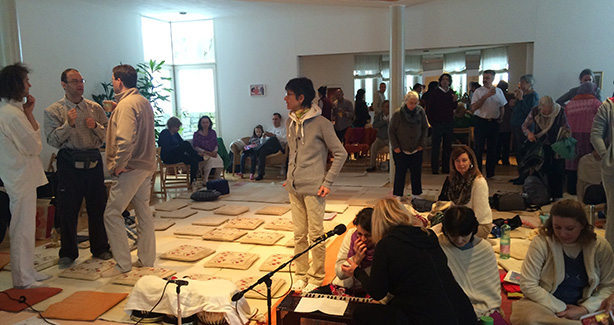 Preparations for chanting in full swing
Immediately after, three and a half hour long chanting of Sri Rudram and Camakam hymns started. The beautiful and divine programme concluded with bhajans, aarathi to Sri Sathya Sai Baba and lunch.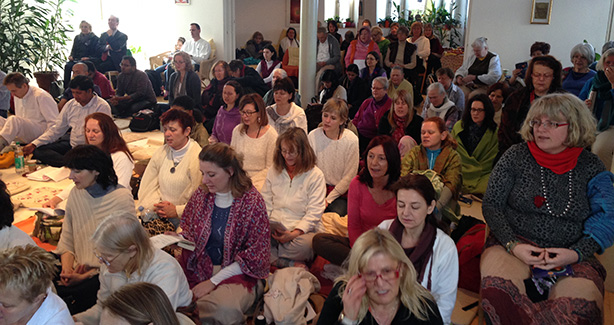 Chanting with rapt attention
There was one interesting coincidence happening at the same time – Munich Security Conference. The most important politicians from entire world have been discussing world's most relevant socio political issues. We pray that divine Veda vibration resulting from our chanting have impelled them in decision making for the better future of the world.
Full throated chanting
This was the first Rudram 11 event in 2015. The year being very auspicious one, with several Ati Rudra Maha Yajnas and Ati Rudra Maha Parayanas organized worldwide, Veda Union is also organizing more events than ever before within a year.
We wholeheartedly invite you to third Rudram 11 event which will take place in Padua (Italy) on 23rd of May 2015.
From the depths of our hearts we thank everybody who helped organize this event or participated in any way. We eagerly anticipate the next Veda Union Rudram 11 event.