UPCOMING EVENTS
PAST RUDRAM 11 EVENTS
PAST PILGRIMAGES
PAST WORKSHOP EVENTS
Sri Rudram 5th - 8th Anuvaka workshop (16th of April 2011); Budapest, Hungary
After the first workshop in Zagreb, Croatia, which covered the 1st Anuvaka of Sri Rudram and the second workshop in Ljubljana, Slovenia, which covered 2nd, 3rd and 4th Anuvaka of Sri Rudram, this third workshop on 5th, 6th, 7th and 8th Anuvaka of Sri Rudram was held in the beautiful old city of Budapest, Hungary on the 16th of April 2011 and organized by Vedamata Jyoti group (part of Veda Union network).
For this unique event a beautiful hall with all its technical requirements was arranged to host more than 100 participants from different countries of Europe on this special day.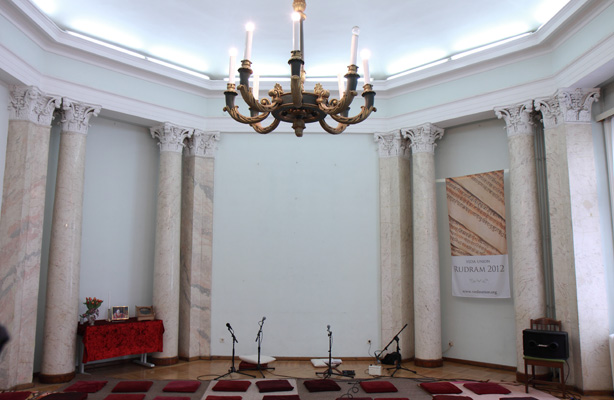 Beautiful hall ready for the sacred sound of the Vedas
The event started at 9h in the morning with registration of attendees of the workshop. Each participant received a Veda Union badge and a learning material to follow during the workshop.
Registration desk
Arrival and registration of attendees
Exactly at 10 AM the sacred syllable OM was uttered in unison after which a prayer to Ganesha and Saraswati followed to remove internal and external obstacles ahead of the workshop. Next, three speakers shared the stage, Mrs. Szilvia Szaraz, Vedamata Jyoti, local organizer, who welcomed everybody to this spiritually uplifting event. Branimir Gonan, co-founder of Veda Union, followed next with greetings in the name of Veda Union network and shortly expounded on the importance of the sound of the Vedas. Finally, Vojko Kercan, co-founder of Veda Union, shortly but thoroughly explained Veda chanting rules on anusvara and visarga.
Szilvia Szaraz
Branimir Gonan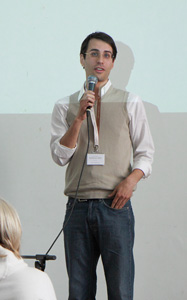 Vojko Kercan
Morning session which lasted till 11 AM consisted of a revision of Anuvakas covered in previous workshops, namely, 1st, 2nd, 3rd and 4th Anuvaka of Sri Rudram.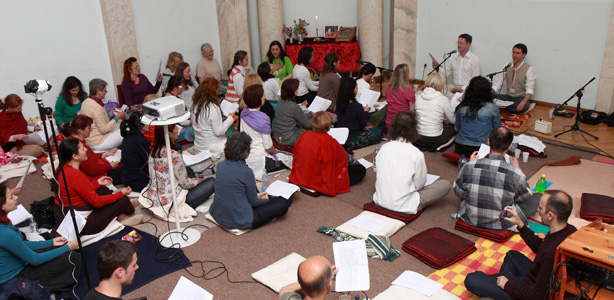 Revision of 1st, 2nd, 3rd and 4th Anuvaka of Sri Rudram
Next sessions, with a short lunch break in between, included very detailed review of 5th, 6th, 7th and 8th Anuvaka of Sri Rudram.
Branimir and Vojko leading the class...
...in complete concentration
During learning, all Anuvakas were chanted in several different ways (sentence by sentence, two sentences together and, lastly, complete Anuvaka) in order to derive the most out of this process.
Sri Rudram 5th Anuvaka class
After the learning process completed, the 100 plus strong gathering chanted all 8 Anuvakas, filling the hall and its surrounding with sacred vibrations of the Vedas and thus marking the end of official chanting part of the workshop.
Chanting all 8 Anuvakas of Sri Rudram
The day came to a close with a beautifully rendered bhajans by the Hungarian bhajan group, transcending everybody to higher planes.
Bhajans rendered with devotion
From the depths of our hearts we thank everybody who helped organize this event or participated in any way. We are all looking forward and eagerly anticipating new Veda Union event soon.
To see a few video clips of Vedic recitations and bhajans from this and other events please visit:
http://vimeo.com/channels/vedaunion