UPCOMING EVENTS
PAST RUDRAM 11 EVENTS
PAST PILGRIMAGES
PAST WORKSHOP EVENTS
Sri Rudram 11th Anuvaka workshop (31st of March 2012); Novi Sad, Serbia
After the four previous workshops held in Zagreb (Croatia), Ljubljana (Slovenia), Budapest (Hungary) and Prague (Czech Republic), this concluding Sri Rudram workshop, which covered the final 11th Anuvaka of Sri Rudram, was held in Novi Sad, Serbia on the 31st of March 2012 and was organized by Lotos group (part of Veda Union network).
More than 100 attendees from Bosnia and Herzegovina, Croatia, Czech Republic, Hungary, Macedonia, Serbia, Slovakia and Slovenia arrived in Novi Sad for this special occasion.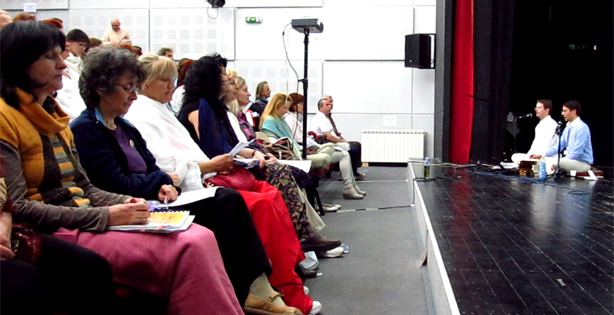 Workshop venue
The registration started promptly at 9h accompanied by morning tea and appetizers. Each attendee received a Veda Union badge, Sri Rudram devanagari, transliteration and English translation text and material explaining rules for chanting Sri Rudram in two groups.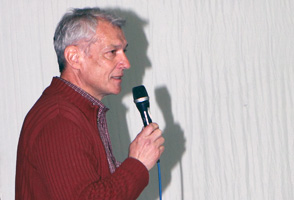 Zinko opening the workshop
Branimir's opening remarks
Sound of holy OM, followed by opening prayers, marked the official start of the workshop at 10h. Mr. Zinko Lagumdžija, as a representative of the local organizer, shortly greeted all attendees to the workshop and was followed by an opening speech of Branimir Gonan, co-founder of Veda Union. In his opening remarks, Branimir stressed the importance of daily practice of Veda chanting and studies.
Branimir and Vojko starting the class with OM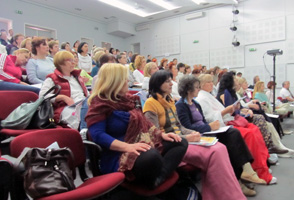 Following the Rudram class with attention
Morning session of the workshop started with detailed learning of Anuvaka 11 and concluding mantras. During the learning process, mantras were first broken into several parts, observing the euphonic combination and intonation rules and later repeated as full sentences. The students could thus observe and appreciate some of the rules of Vedic chanting.
Next, Vojko Kercan, co-founder of Veda Union, delivered a short presentation on the origin of the Vedas and an overview meaning of Sri Rudram. In his presentation, Vojko described the placement of Sri Rudram in the vast Vedic corpus and gave a brief overview of Sri Rudram in terms of an Upanishad.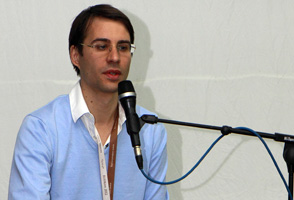 Vojko on the meaning of Sri Rudram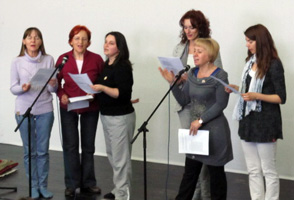 Singing Serbian devotional songs
Morning session concluded with a revision of Anuvakas learned in previous workshops which was followed by a short lunch break.
Afternoon session, which started at 14h, began with short, but beautiful exposition of Serbian devotional songs performed by the local group. Branimir continued the workshop programme with a short pictorial presentation of all past workshops. Revision of Anuvakas learned in previous workshops continued until 15h, followed by review of the rules and changes when chanting Sri Rudram in two groups.
Workshop video report
The workshop came to a close with chanting 3 times complete Sri Rudram hymn with great enthusiasm and love, charging the atmosphere with divine vibrations.
The day concluded with soulful bhajans rendered by Sai Surya bhajan group from Slovenia and distribution of offerings placed at the altar.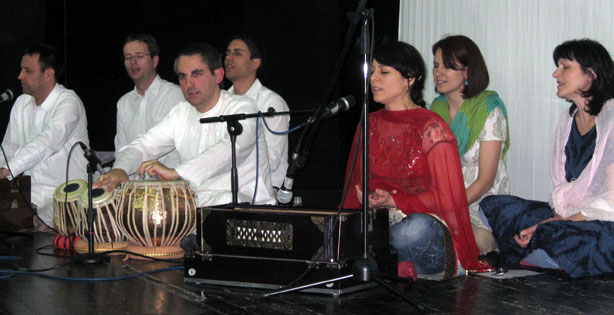 Concluding the day with bhajans
Thus, after 2 years from its start, this workshop marked the end of a great Sri Rudram learning process and Rudram 2012 project (Veda Union initiative that aims at uniting Veda chanting groups and organizations in Europe through collective chanting of Sri Rudram).
From the depths of our hearts we thank everybody who helped organize this event or participated in any way. We are all looking forward and eagerly anticipating new Veda Union event soon.