UPCOMING EVENTS
PAST RUDRAM 11 EVENTS
PAST PILGRIMAGES
PAST WORKSHOP EVENTS
Rudram 11 - Ljubljana, Slovenia (27th of September 2014)
Rudram 11 is a Veda Union project with the goal to organize continuous 11 times chanting of Sri Rudram Camakam hymns at 11 different locations in Europe within the next 3 years. These magnificent hymns will thus be chanted overall 121 times in different locations by numerous devotees of God and will spread the sacred vibration throughout European subcontinent.
Beautiful altar with chair of Sri Sathya Sai Baba, four faced Shiva lingam, divine trishula and Ganesha
The first of such unique Rudram chanting events was held in Ljubljana, Slovenia on Saturday, 27.09.2014 and what a start of the project it was. More than 100 people attended the sacred event from countries such as Croatia, Czech Republic, Estonia, Germany, Hungary, Russia, Serbia and Slovenia.
The event started with opening prayers and short remarks by Vojko Kercan, co-founder of Veda Union which was followed by discourse of Sri Sathya Sai Baba on the importance of Rudram chanting. Immediately after, 100 people strong gathering started almost 4 hour long continuous chanting of Sri Rudram and Camakam hymns.
The sound of Veda Union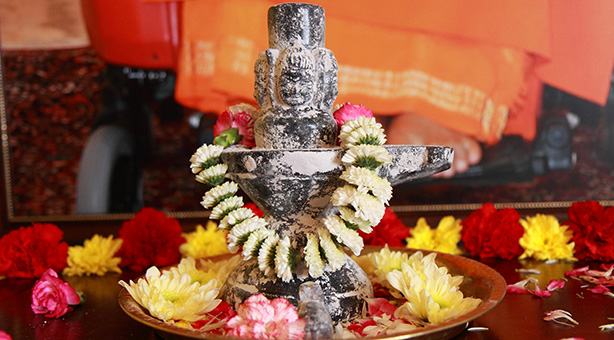 Four faced Shiva lingam with materialized vibhoothi installed on the altar
Preparing for the event
Vojko during opening remarks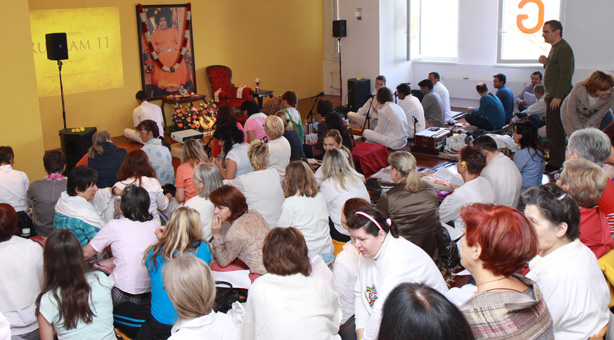 Almost ready for chanting
Continuous chanting of gents...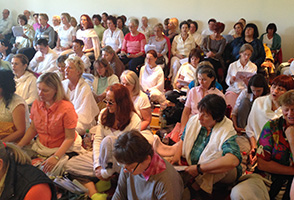 ...and ladies
Beautifully bedecked Ganesha
The beautiful and divine programme concluded with bhajans, aarathi to Sri Sathya Sai Baba and four faced Shiva lingam and prasadam.
We wholeheartedly invite you to a second Rudram 11 event which will take place in Munich (Germany) on 7th of February 2015.
From the depths of our hearts we thank everybody who helped organize this event or participated in any way. We eagerly anticipate the next Veda Union Rudram 11 event.