UPCOMING EVENTS
PAST RUDRAM 11 EVENTS
PAST PILGRIMAGES
PAST WORKSHOP EVENTS
Pilgrimage to Prashanti Nilayam, India from 15th to 24th of October 2012
Veda Union, a network of European Veda chanting groups, organized a pilgrimage to Prashanti Nilayam ashram, the abode of Bhagawan Sri Sathya Sai Baba, from 15th to 24th of October 2012. The pilgrimage was organized at the successful closure of Veda Union Rudram 2012 project, a project which aimed at uniting Veda chanting groups and organizations in Europe through collective chanting of Sri Rudram by the year 2012.
The pilgrimage was attended by 60 devotees from six countries, namely Bosnia and Herzegovina, Croatia, Czech Republic, Hungary, Serbia and Slovenia. Group members enjoyed and experienced divine vibrations of Navaratri celebrations and offered their humble salutations at the Lotus Feet of Bhagawan Sri Sathya Sai Baba, the source and inner inspirer of their Veda studies.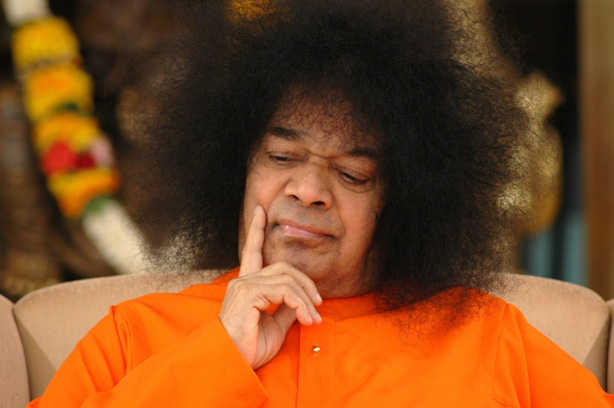 Bhagawan Sri Sathya Sai Baba, a silent guide and director of Veda Union
The group was given a chance to offer Veda chanting on 16th of October 2012 in the Sai Kulwant hall on the first evening of Navaratri celebrations.
Gents chanting during the performance at Sai Kulwant hall
Ladies following with full throated chanting during the performance
Veda chanting offering included chanting of Sri Rudram, third anuvaka of Camakam, Shivopasana mantra and Mantra Pushpam.
Veda Union performance in Sai Kulwant hall on 16th of October 2012
This was the first time a non India group has been given a chance to offer Sri Rudram chanting in the Sai Kulwant hall.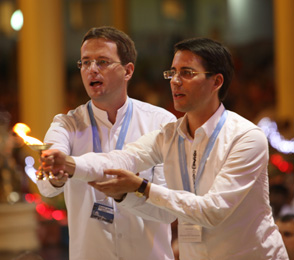 Offering of the sacred fire by the gents...
...and ladies.
During the pilgrimage, the group was also given a chance to hear many inspiring talks on different spiritual subject and have daily Veda chanting practice. The pilgrimage marked a new chapter in Veda Union activities and paved the way for a new learning process of Camakam himn.
The support which was given by the Prashanti Nilayam ashram authorities was unprecedented. From the depths of our hearts we thank all the ashram authorities, our families and all our well wishers for believing and supporting us on this path.
All images and videos of this report are courtesy of Radio Sai.