UPCOMING EVENTS
PAST RUDRAM 11 EVENTS
PAST PILGRIMAGES
PAST WORKSHOP EVENTS
Veda Union / Sri Rudram public event (29th of May 2010); Zagreb, Croatia
To see a few video clips of Vedic recitations and bhajans from this event please visit:
http://vimeo.com/channels/vedaunion
After several months of devoted preparations, Veda Union / Sri Rudram public event finally arrived on May 29th. It took place at the Vidra theatre in Zagreb, Croatia, and it was organized by the Sound of Veda Fellowship. Last minute arrangements, sound checks and multimedia tests had started early in the morning, so that everything would be perfect by the start of the event, scheduled at 18h.

The Vidra theatre turned into a hall filled with devotion towards the Vedas and bhajans. In every corner people were preparing for the program by chanting the Vedic mantras or by singing bhajans. A few minutes after 18h the program started, as is customary, with Ganapathi Prarthana, an invocation mantra dedicated to Lord Ganesha and Goddess Sarasvati, followed by Ganapathi Atharva Shirsham, which explains the divine nature of Lord Ganapathi.
Chanting invocation mantras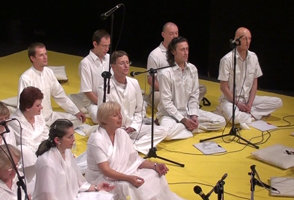 Chanting in full swing
During the whole program a presentation was projected onto a big screen which stated the title and short explanation for each recited mantra, so that everybody in the audience could grasp the meaning of the currently recited hymn.
Next followed some opening remarks about the evening's program by Branimir Gonan, founder of Sound of Veda Fellowship and co-founder of Veda Union.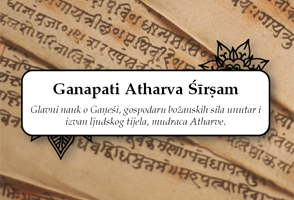 Background presentation
Branimir during opening remarks
After that a block of Vedic hymns followed, including Sarvadevata Gayatri, a set of mantras dedicated to different Vedic deities; Bhu Suktam, a hymn dedicated to mother Earth; and Mantra Pushpam, which explains the source of all elements in the Universe. This block of Vedic recitations also featured a film "The Vedas: Song of Creation" by Gene Massey.
The full throated, united chanting was briefly interrupted by Branimir's second short speech about the importance and significance of Veda chanting, and then he proceeded to explain the idea and vision of Veda Union and Rudram 2012 project.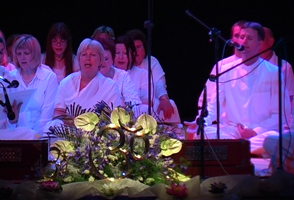 Chanting behind nicely decorated OM altar
Ladies chanting with great fervor
The final block of Vedic recitations included hymns dedicated to Lord Siva. The first was Sivopasana mantra, which includes salutations to different aspects of Lord Siva, followed by Laghunyasa mantra, which is generally chanted before Sri Rudram and serves for purification of the body before starting with worshiping Lord Siva. Laghunyasa marked the culmination of the event. As per the vision of Veda Union for this occasion, 1st Anuvaka of Sri Rudram was planned to be chanted by different groups from different European countries. People from Croatia, Slovenia, Serbia, Bosnia and Herzegovina and Germany were invited on to the stage. More than 50 people gathered and chanted in unison 1st Anuvaka of this sacred Sri Rudram mantra.

Chanting 1st Anuvaka of Sri Rudram by people from Croatia, Slovenia, Serbia, Bosnia and Herzegovina and Germany
After the 1st Anuvaka of Sri Rudram was finished, the program was continued by uplifting bhajans by the Sai Surya bhajan group from Slovenia.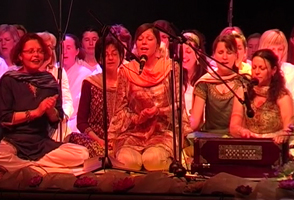 Ladies leading the bhajans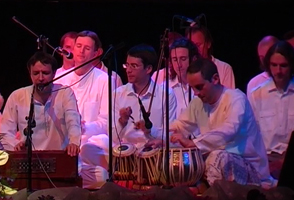 Bhajans led by gents
The bhajan group performed several bhajans during their 30 minute bhajan session, keeping everybody in an exhilarating mood.

Sai Surya bhajan group performing Chita Chora Murali Bala bhajan
The program came to an end with Kshama Prarthana, a closing prayer for forgiveness of errors done during the Vedic recitations and Samastha Loka, prayer for World peace and prosperity. A Sri Rudram 1st Anuvaka learning CD was gifted to all participants and members of the audience, as a memory of the event and a reminder to continue practicing and learning this sacred Vedic chant.
The dedication and devotion which was felt throughout the program cannot be explained in words. We therefore yet again thank everybody which helped organize this event or participated in any way.