Radio Sai Global Harmony interview about Veda Union
Radio Sai Global Harmony from Prashanti Nilayam ashram, a digital satellite radio channel which brings the message of Love of Bhagawan Sri Sathya Sai Baba, published an interview about Veda Union entitled 'Uniting Europe Through the Vedas'.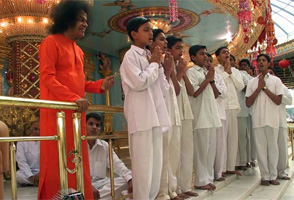 Bhagawan's students chanting the Vedas
Vojko during an interview at Radio Sai
In the interview, which was recorded in July 2012 as part of Radio Sai series 'Tryst with Divinity', Vojko Kercan shares with Radio Sai's Bishu Prusty, how along with his Veda brother Branimir Gonan, have been inspired to start a unique Veda movement in Europe. Through a conversation Vojko explains the start of Veda Union, its mission and goals and shares some of his personal experiences on the path.
Read the full interview on Radio Sai:
http://media.radiosai.org/journals/vol_10/01SEPT12/05_Vajko_01.htm